Disney Electronica
This was an article I wrote intending to send it to PingameJournal, but it just wasn't 'pinbally' enough.
<![if !vml]>
<![endif]>
By Scott Elder
With all the Tron hype going on, Disneyland, or more specifically Disney's California Adventures jumped on the bandwagon.  They created a spectacular Tron promotion, of which I have to tell you, pictures don't do it justice.
            It opened before the Tron Legacy movie premiered, so one of the events was an extended 3-D preview of the movie.  The show includes a street dance with Daft Punk music blasting out everywhere.  In typical Disney styling, the light shows are amazing.
They transformed the entire "Hollywood Backlot" section of the park to be elecTRONica.  They built so much Tron influenced signage and props that you felt like you were walking into a different world, or rather "the grid".  Movie projectors played specially made animations based on Tron across all of the buildings in the area.  When you see a dozen large buildings all having synchronized video playing on them, it is truly a once in a lifetime vision.
The pinnacle of the event had to be the replica of Flynn's Arcade.  It had the standard vintage arcade games (only one pinball), but it had some offbeat classics as well, games I hadn't seen since 1980 (when's the last time you played a dedicated Targ machine?).  They had two custom Space Paranoids machines you could play, this of course is the fictional game that Kevin Flynn created in the first Tron movie.  The arcade made me feel at home, and it was really fun watching it pack full of people who were excited to be there.  I watched a lot of people run up to a machine screaming about how they used to play it all the time and hadn't seen one in thirty years.  I also got to watch a lot of people fail miserably at impressing their grandkids with their playing skills..  reflexes deteriorate in thirty years!
Here are some photos I took, along with some captions.  Hopefully everyone who wanted to see it got a chance to visit it in person.  Those who didn't should buy a Tron pinball and arcade machine, look at the pictures in Pingame Journal and re-live it at home!
<![if !vml]>
<![endif]>
This is the entrance to the back lot.  You walk in through main gates, wander to the left and this is what you saw.  The whole area looks entirely different at night.
<![if !vml]>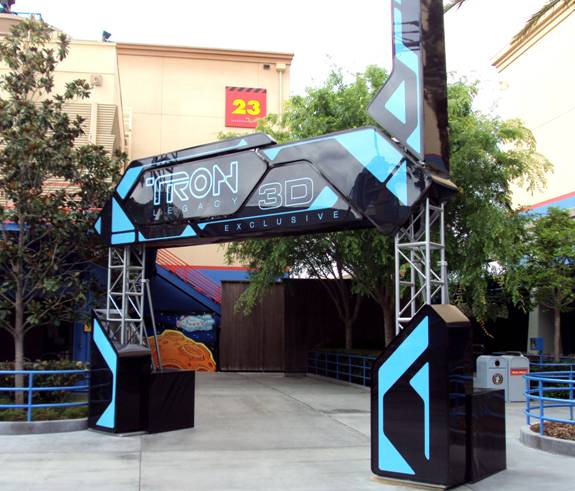 <![endif]>
Entrance to the 3-D movie preview.  There was custom Tron artwork like this throughout the entire section of the park.
<![if !vml]>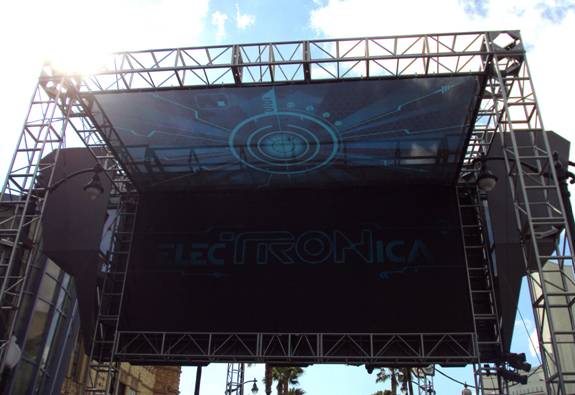 <![endif]>
Above the main stage just as you walk into the park.  They would put on a 15 minute live show below this each night right before they 'lit up' elecTRONica party.  There was a custom video showing scenes from the movie and vintage arcade games.
<![if !vml]>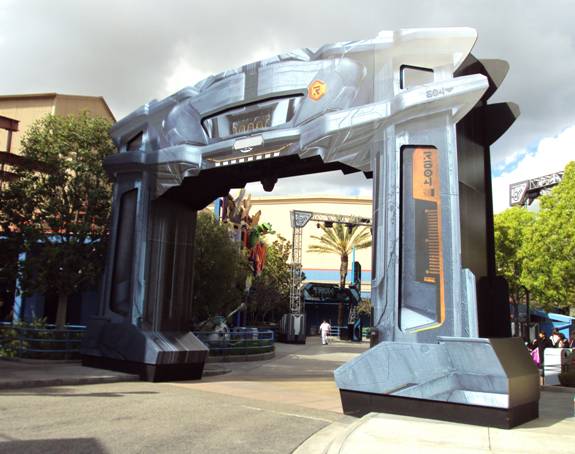 <![endif]> 
This giant recognizer made you feel small.  It was probably 25 feet tall, and at night would occasionally blast a beam of light directly under it like in the movie.
<![if !vml]>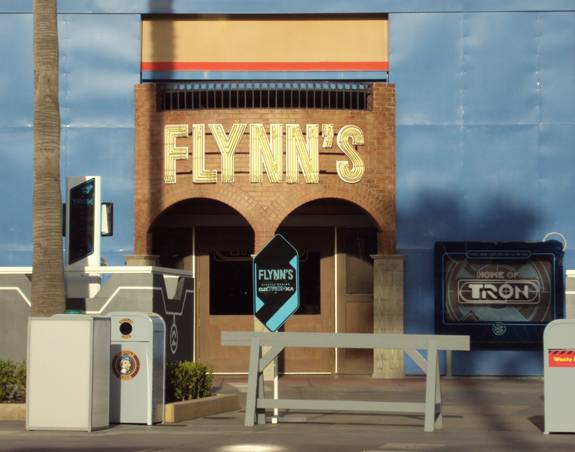 <![endif]>
Flynn's arcade in the daytime.  It was closed during the day, which made for a lot of anticipation in people.  When it was open, the crowds made it feel like the 80's.
<![if !vml]>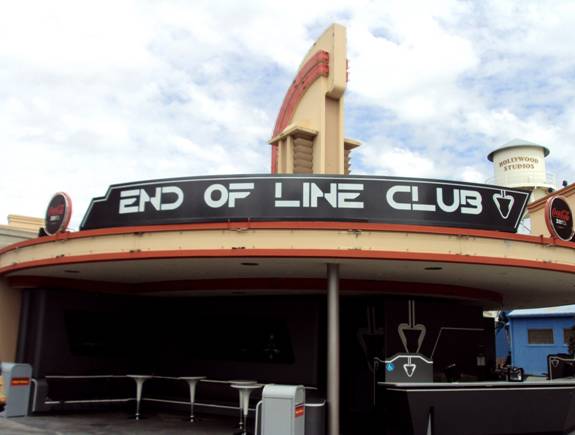 <![endif]>
The end of line club.  They served glowing drinks in light up cups, if, you wanted to spend $12 a drink.  All the tables and seats were stylized to look like they were out of the Tron universe.
<![if !vml]>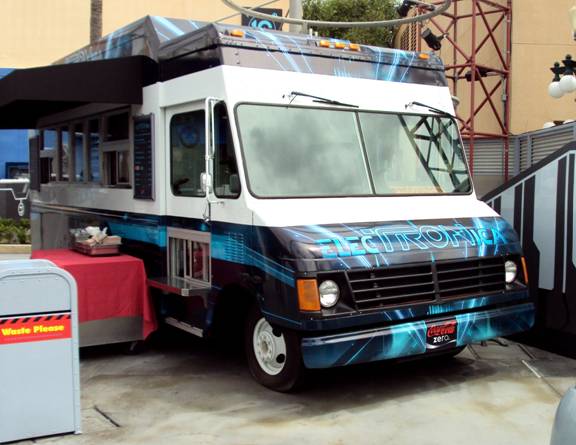 <![endif]>
There was a Tron lunch wagon.  You could buy nachos, but they looked conventional, I was halfway expecting them to have blue cheese sauce or something.
<![if !vml]>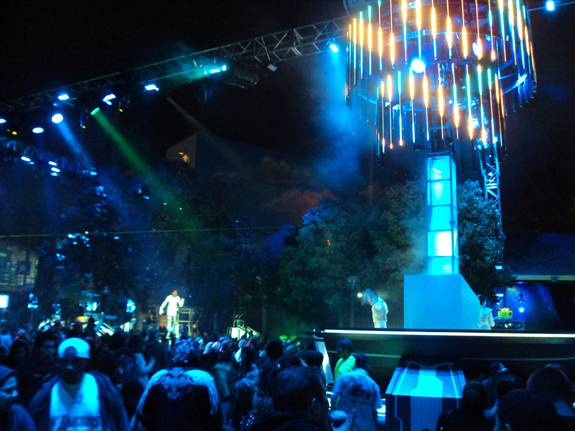 <![endif]>
At night it really got crazy, thumping lights and music, live dancers and shows going on around the back lot. 
<![if !vml]>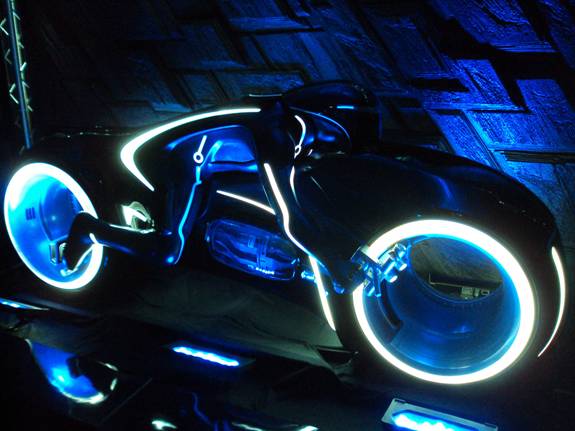 <![endif]>
Full size model of a light cycle.  This is another example of a photograph doesn't show the neon pulsing vibrantly.  I want one in my arcade!
<![if !vml]>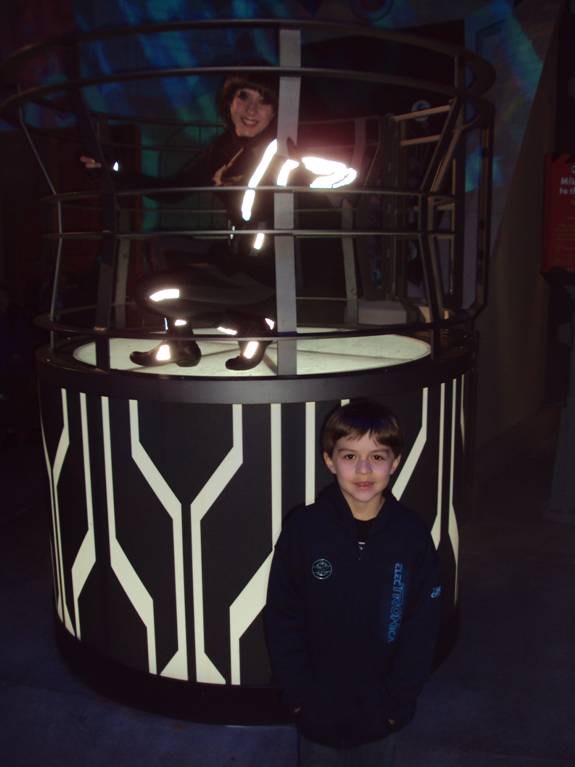 <![endif]>
"Quorra" dancer stopped dancing long enough to pose with my son Ryan for a picture.  He's watched the original Tron movie dozens of times, was very excited for the new movie.  He's actually collecting Tron stuff now, I may need to break him of that.
<![if !vml]>
<![endif]>
Space Paranoids custom arcade machine.  It played really well, but was actually a bit too easy.  You could pretty much play indefinitely.
<![if !vml]>
<![endif]>
The arcade had great signage.  This was displayed right over a vintage Tron arcade machine.  Every 15 minutes or so, all the lights would "flicker" out and Journey would start playing and there was audio from the movie with Jeff Bridges talking about the grid.
<![if !vml]>
<![endif]> 
Another lit sign in the arcade, this one is a recognizer.  Not sure what they were made of, but they were intensely bright and could be quickly dimmed and then turned back on.
<![if !vml]>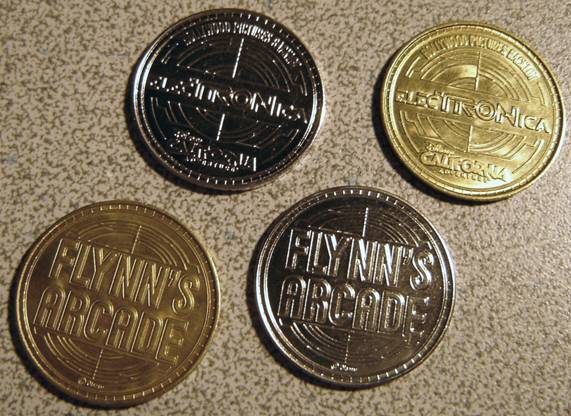 <![endif]>
The arcade ran on tokens.  These are a fun keepsake of the visit.  They came in brass and silver colors, here you see the fronts and backs of a pair.